From the Courtroom to the Ballroom
by Carolyn Pitt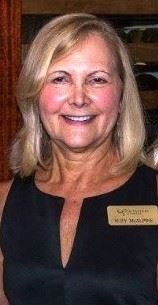 Suzanne McAlpine, Wine Tasters of Naples' former social chair, has transformed a successful professional life in Connecticut into enjoying retirement in southwest Florida. Ballroom dancing has become a passion. She can also be found at exercise classes, especially water aerobics, playing golf, or watching football and baseball on TV.
Suzy originally hails from Gary, Indiana, and met her husband while in college. His successful career in sales caused the young family to relocate periodically. While living in California, Suzy was able to complete an M.S. degree in psychology at California State University Long Beach. Years later and recently divorced, she obtained a law degree from the Quinnipiac University School of Law, and entered private practice where she was active in criminal defense work for nine years. This led to her decision to join the Psychiatric Defense Unit within the Public Defender's office. Located on the grounds of the state psychiatric facility, she represented people found not guilty of criminal behavior on terms of having mental disease. Her rationale for this career choice is clear: everyone is entitled to the best defense and it was her role to support the Constitution. She was also an adjunct instructor at Quinnipiac University where she taught Legal Research and Writing. Her involvement with the Board of the Connecticut Criminal Defense Lawyers Association, for whom she organized large events, prepared her for her current responsibility as Social Chair for Wine Tasters of Naples.
Suzy has two sons of whom she is proud. Her older son earned a doctorate in physical chemistry and is now a research professor at the University of Minnesota. His research in nanotechnology has placed him on the cover of the New York Times Magazine and in Time magazine. Currently he is involved with 3D printing. Her younger son is a production manager in the animation department for The Simpsons, America's longest running animated TV show.
What does Suzy anticipate for her future? More dancing. Traveling, with Ireland and Greece on top of her bucket list. Planning more social activities for Wine Tasters of Naples such as the recent dinner at the Bleu Provence and the dancing lesson at Dancing with Marcia, and other events which include the Holiday Trolley Tour and the Tenth Anniversary Celebration – a sunset cruise aboard the Naples Princess on February 23, 2018.
###